The construction of the pedestal and landscaping of the surrounding area with the building of the monumen to honour Bokenbai Batyr in the city of Aktobe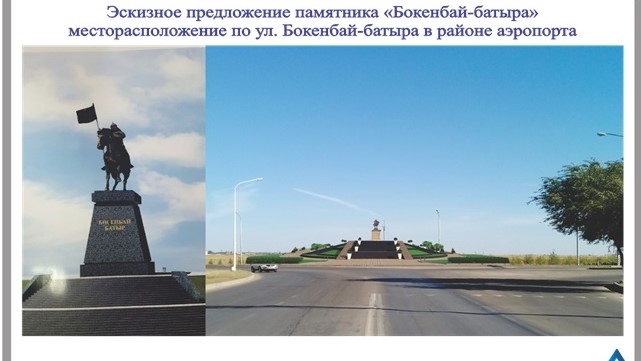 Project designer: STROYCONSALTING LLP – Design estimate documentation 2,0 mln. tg.
Location: Bokenbai Batyr Str., in the district of the Airport
DESCRIPTION:
Production and installation of the monument in size: length - 6m., width - 4.2m., height of the pedestal- 10.8m.

Lightening of the monument

Landscaping of the area of 1 ha
The Design is being completed. According to budget calculations the cost of the following work is:
The cost of construction work for pedestal construction and landscaping of the area – 40.8 mln. tg.

The cost of monument production and installation – 90 mln. tg.
Totally: 130.8 mln.tg.